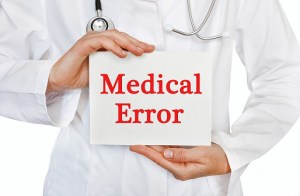 In the BMJ article heard 'round the world (or 'round the medical malpractice world, at least), researchers claim that medical error is now the third leading cause of death in the country. Doctors are now more deadly to humans than anything else except heart disease and cancer.
It is not as if we did not know. We have been up in arms about medical negligence and preventable errors for years. As it turns out, we were right to be alarmed. Dr. Martin Makary is a professor of surgery at the Johns Hopkins University School of Medicine in Baltimore. He is also the lead researcher in the study published in BMJ. In an interview, he claimed "that the category includes everything from bad doctors to more systemic issues such as communication breakdowns when patients are handed off from one department to another," as reported by the Washington Post.
And then he explained his research in one, simple statement: "It boils down to people dying from the care that they receive rather than the disease for which they are seeking care."
What the study found
Dr. Makary and his team reviewed four large studies between 2004 and 2008. What they found is that about 9.5% of deaths in the U.S. each year are the result of medical errors. That is 251,000 deaths a year. That's about 700 deaths a day. Medical negligence kills about 700 people a day. And it might even be worse than that. The way that this kind of data is collected and shared is haphazard at best. It is entirely possible that even more people die every single day because of preventable medical mistakes.
And remember: this study did not include patients who are seriously injured by medical negligence; it only looked at the mortality rate. According to Frederick van Pelt of the health-care consultancy Chartis Group, "Some estimates would put this number [of severe patient injuries] at 40 times the death rate… This [number] gets buried in the daily exposure that care providers have around patients who are suffering or in pain that is to be expected following procedures."
What comes next?
Dr. Makary had some suggestions for improving the numbers, starting with more careful and detailed recording of fatal medical errors on death certificates. He also suggests that further studies be done on the subject, so that hospitals and health care providers alike can understand the real scope of the problem.
We are never going to put an end to medical errors. Doctors make mistakes; they're only human. But the types of preventable medical errors that lead to such dire consequences – losing surgical instruments in a body, failing to check a patient's medical history, not taking care to stop the spread of hospital acquired infections, and so on – should, ideally, never happen. And we need our doctors and hospitals to understand that unless they take some new measures to record these instances and then learn from them, they are responsible for up to 700 deaths a day. Accountability matters, especially when your actions cause the otherwise preventable death of a person and destruction of a family.
Plaxen & Adler, P.A. provides comprehensive representation for Maryland victims of medical malpractice. If you or your loved one was seriously injured because of a medical error, or if you lost a family member because of medical negligence, we want to help. Please contact us to schedule a free consultation with an experienced Maryland medical malpractice lawyer from our firm.